MEGALOS: NEW GAME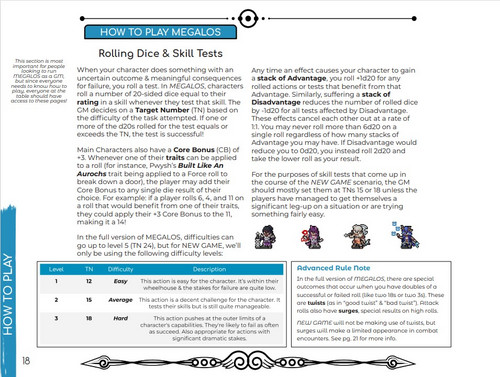 MGLS: NG v1.1
Heyyoooo~
Had a really good round of feedback from some folks playing MEGALOS: NEW GAME that has led to yet another round of edits, tweaks, and revamps. Most of this is tightening screws, but they're screws that were in need of tightening for a long time, and the playtesting just helped point out where the rattling sound was coming from. Some of this stuff has been brewing for a bit, and some of it is just straight-up changes I already made in the most up-to-date private design docs and I'm rolling out first here in NEW GAME.
These changes (and others) may get tweaked here and there by the time MGLS:NG+ comes out, and even more changes will almost certainly be introduced by the time the full version is ready for release.
v1.1 Changelog:
Various minor visual fixes for the document- removed duplicated elements and measuring lines that were meant to be removed after layout.
Difficulty Level Target Numbers (TNs) have been adjusted to accommodate a new probability scale. Level 1 (TN 12), Level 2 (TN 15), Level 3 (TN 18). Though it doesn't affect NEW GAME, I've also adjusted the mechanics around rolling Twists to better match how skill test rolling works in MEGALOS.
Full Action: Full Attack has received a bonus of +4 damage to make it a more enticing option, since currently (in NEW GAME, at least) most enemies' Defenses aren't quiet high enough to make the stack of Advantage particularly worth it compared to taking two half attacks. This option will be further scrutinized and adjusted later, this is to be seen as a "good enough for now, I guess" quick fix that will be more appropriately dealt with later.
Quick Action: Auto-Attack had damage reduced (significantly, for most characters), and is now based on your character's Role-- Strikers inflict 7 piercing damage, Tanks & Support inflict 4 piercing damage. AAD (Auto-Attack Damage) was doing its job a little too well when taken holistically with the relative ease of hitting targets with attacks.
Enemies (Mekari Skulkers, Mek BU-573-R, and Administrative Node) have had Defenses, HP, Auto-Attack Damage, and actions tweaked, generally to be a little bit more threatening and/or difficult to kill. Only slightly, though, don't worry too much!
The result of these changes is a game with very slightly better-feeling rolling, a little more satisfying combat, and a little more compelling stakes all around. As mentioned above, some of these changes are at best quick fixes, and many more little tweaks and nudges will come into play over time.
For now, MEGALOS: NEW GAME+ is in the works as a follow-up to this quick-start scenario, which will introduce players to systems like advancement, monstrosity and elite enemies, telegraph tokens, and more. Please look forward to it! :D
Edit: I also added a justified version of the document. This makes it look a little better (to me), but I've had a couple friends tell me it's harder for them to read so I'm leaving both up instead of replacing it. :3

Files
MEGALOS - NEW GAME document 192 dpi.pdf
26 MB
Jul 05, 2022